Because of the current health crisis, it is a common place to see people wearing face masks in public.  While wearing these masks is an important part of curbing the spread of infection and disease, your child may feel uncomfortable with the idea of wearing face masks when they go outside. Younger children, especially may feel uneasy about putting something like a mask over their nose and mouth.  Older children may view wearing a mask as uncomfortable or even unnecessary despite the current realities. While wearing masks can help with prevention, "They are not recommended for those under 2, and there may be some children who can't wear them — the A.A.P. mentions those with 'severe cognitive or respiratory impairments.' On the other hand, immunocompromised children might need more protection than cloth face coverings offer, and N95 masks are recommended" (New York Times, 2020)
            For many children, any reluctance associated with wearing a face mask can disappear when parents and/or caregivers (1) give children the opportunity to get used to the idea of wearing face masks in public, (2) take the time to explain to children why people are wearing masks in a developmentally appropriate way, (3) answer children's questions about why people are wearing masks in public, and (4) provide emotional support to children who may be struggling with the idea of wearing face masks for prolonged periods of time.  When talking to your children, parents or caregivers should be honest and use simple terms that their children understand when talking about wearing a mask in public.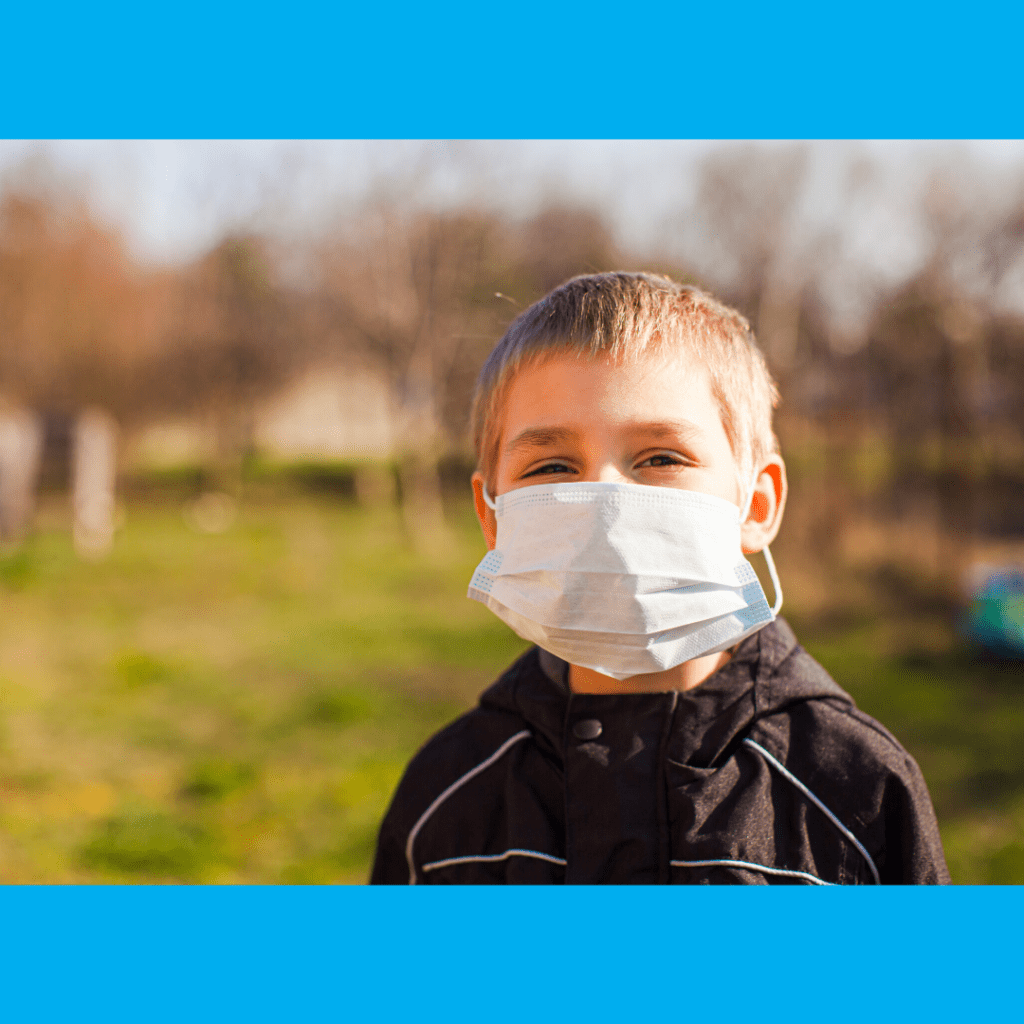 Parents should have a discussion about how wearing a mask in public can help prevent the spread of the coronavirus.  Tedra Smith, DNP, nurse practitioner and an assistant professor at the University of Alabama at Birmingham School of Nursing suggests that when parents talk to their children, they discuss other things that children may typically do to prevent the spread of germs, such as covering their nose and mouth when they cough and avoid others when they are sick.  Smith believes that once parents have this talk to their children, children will begin to understand that wearing a mask is to prevent others from getting the virus and other germs.  
Here are some additional tips to help children who are still struggling with wearing a face mask in public:
Practice Makes Perfect
The more your kids practice putting on their masks within the home, the more comfortable they will be with wearing them outside the home.  Even if you aren't planning to go outside, practice putting on the mask with your children for a few minutes a day to ensure it becomes part of their daily routine.  Be the role-model, always wear your face mask when you go out. 
Encourage Creativity
There are many masks available that can be drawn on or decorated with pens, markers, or stickers.  Giving your child the option to personalize their masks may give them a sense of control over the situation.  Furthermore, it can be fun for your child to personalize their mask with decorative items.
Put Children in Charge
Children often like feeling superior to adults. Tell your kids they are in charge of reminding the household to bring masks and letting family members know when the masks slip off their nose.
If you need support, please call our Parenting HelpLine: 1-800-243-7337
References:
Frey, L. (2020). Children need face masks, too: 8 ways to get your child to comply. https://inside.akronchildrens.org/2020/05/02/children-need-face-masks-too-8-ways-to-get-your-child-to-comply/
Klass, P. (2020). How to Help Kids Embrace Mask Wearing. https://www.nytimes.com/2020/06/23/well/family/children-masks-coronavirus.html?searchResultPosition=1
Rohan, A. (2020). Tips for children wearing masks during a pandemic. https://www.uab.edu/news/youcanuse/item/11321-tips-for-children-wearing-masks-during-a-pandemic