Selecting 

A

ppropriate 

C

hild 

C

are

 
  When it's time to go to work, how do we choose the best option for our littlest ones? First things first, how do you find child care centers?  

Call LOCATE: Child Care. 

This is a free referral service for parents looking for child care. They can be reached at 1-877-267-0060 Monday – Friday 

8:30am – 4:00pm. 

 

Telephone Interview.

 Call all of the child care centers you receive from LOCATE and tell them your 

child's

 age.

 Here are some questions 

you might want to ask: 

 

What are your hours? 

 

What is your child : teacher ratio

 

Do you serve meals or snacks or do I provide food for my child? 

 

When I have time, may I stay and watch my child at play? 

 

Do a site visit. 

Visit at least 3 places, and take yo

ur child with you! Observe the spaces, the child care 

provider

(s), and the children. Make sure you see the provider's license. 

 

Is the environment clean and safe? Is there enough area inside and out for kids to play? Do the toys support different age-appropriate play? Is there a place quiet time? 

 

Does the child care provider use a calm voice and speak with the children at their level? Are you comfortable with the way they discipline the children? Are accomplishments of children praised? 

If you have an 

infant

, do you think they will get attention? 

 

Are the children engaged in activities that are appropriate for their age? Are children being offered choices of activities? 

Does the daily schedule work for your child? Inside and outside play? Nap time? 

Individual

 and group play? 

 

Connect with other parents.

 Ask the child care provider if you may speak with other parents. Ask about their experiences, what they or their child like and dislike. 

 

Make a decision. 

Go over your notes from this process and narrow down your options. 

 

Stay active. 

Establish a long-term relationship with the program

, attend program meetings, help with arts, crafts, and snacks! 

 
---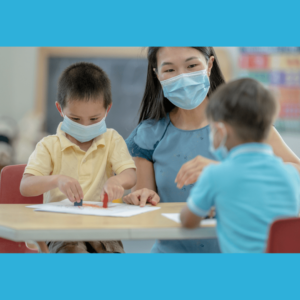 When you are going through the process of looking for child care providers, we want our children to be cared for and loved just like they are at home. We want them to be taught all the school readiness skills; we want them to experience positive relationships with other adults and children.  
So, how do we get it all? 
Make 

sure

 you look for 

child care

 providers who: 

 
Promote learning through playing together with the children. Play is a child's "work!" Play encourages communication; improves cognitive development and encourages relationship building.   

Intentionally teach social emotional skills. Intentionally teaching social and emotional development is just as important to children's learning as their academic development. 

Utilize appropriate guidance practices. Guiding children's behavior through focusing on ways to encourage and strengthen positive behavior, prevent misbehavior, and manage challenging behavior when it occurs is essential for each child. 

Offer an enriching, positive, welcoming environment.  A program that provides stimulating activities and  materials, consistent routines, and nurturing interactions offers an inviting place for children to grow and learn.

Do your research:
---
Don't forget about our Kids Care Plus Program! We are free, short term child care for when parents and caregivers just need a break. Learn more: Kids Care Plus – The Family Tree (familytreemd.org)

---
Navigating

parenting today can be hard, but we are here to support you! If you have questions about parenting in general, call our 24/7 Parenting

HelpLine

: 1-800-243-7337.