Summer Safety
Summer is almost officially here! While it is a fun time for families, it is critical to practice safety during these hot months!
1. Practice Summer Heat Safety
Keep hydrated: Make sure you lead by example, drink plenty of water yourself and kids will do the same. If kids have sports practice, they need to drink plenty of water the night before and continue all day long. Drink before you become thirsty! Bring a cooler with you, kids usually prefer cold water.
2. Stay safe around water
Never let your child be near water alone. Be sure to watch them constantly, children can quickly wonder into the deep end without supervision. If you allow a babysitter to take them to the pool, be sure that babysitter knows how to swim and will practice water safety.
3. Protect your skin from sunburn
Putting on sunscreen each morning before outdoor play is important. However, it is equally important to re-apply throughout the day. You will need to re-apply even more often if sweat and water play are involved.
Treating sunburn: It is important to avoid the sun as you let sunburn heal. Use a moisturizer or aloe vera to sooth the sunburn, but do not use any topical creams with antihistamines.
4. Keep Bugs at Bay
Mosquito bites are mostly just annoying, but in some cases can be dangerous. It is important use bug spray, spray with DEET is most effective.
Be sure to check your children, and yourself, for ticks after outdoor play.
5. Never leave your child in a car
It is important to NEVER leave your child unattended in a car, but especially during the hot summer months. The temperature in cars rise extremely quickly. Even if you need to run into the store for one thing, bring your child with us.
Be sure to always check the back seat before getting out of the car.
Learn more: 5 Simple Summer Safety Tips | Atrium Health Wake Forest Baptist (wakehealth.edu)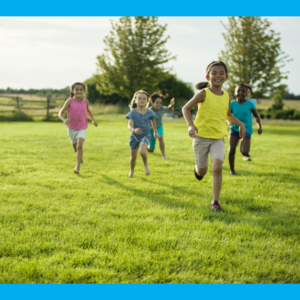 As always, if you have additional questions, please call our 24/7 Parenting HelpLine at 1-800-243-7337.
---