Family Connects Maryland: A Success Story
       Tracy was a first-time mom who delivered at Sinai Hospital. While recovering with her new baby girl, Ava, Tracy was given the opportunity to sign up for one of The Family Tree's home visiting programs, Family Connects Maryland. Three years later, after Tracy completed The Family Connects Maryland program, we had the pleasure of speaking with her about the experience. 
"Coming home with my newborn Ava was overwhelming.  I was recovering from a C-section and was anxious about caring for my new daughter.  The feelings of stress, and worry consumed me.  I did not realize at the time I was struggling with postpartum depression. The Family Connects Maryland program helped me recover and gave me the tools I needed those first few weeks."   
        Family Connects Maryland is a universal, short-term home visiting program that we offer in partnership with Sinai Hospital. This program, developed by Duke University, is different from our other home visiting programs in a few ways. It provides short term, 1-3 visits, to moms who deliver at Sinai Hospital.  Visits are made by a registered nurse, and the overall goal is ensuring mom and baby feel supported along with linkage to community resources. 
        Tracy had a cesarean birth and was in a lot of pain afterwards. She said much of her time right after bringing her daughter home was a blur. With the lack of sleep and all the chaos of a new baby, it was so wonderful to have our Family Connects Maryland nurse come and check on her.  She was so thankful to have a professional who really knew what she was doing be there for her, answer any questions and just tell her she was doing a good job. This program was a life-changing support system for Tracy.  
       While Tracy did have a supportive family network and other resources available to her, she was still struggling with her adjustments. Even with all the help she had, the home visit was one of the only things that could comfort her and really reassure her that she and her new daughter would be okay. Tracy remembers how difficult it was to get ready and get her daughter to her doctors' appointments. It is far too common that new moms skip the one-week appointment, because they are just too tired. The visits from the nurse helped Tracy feel better about her daughters' weight, growth, and overall progress.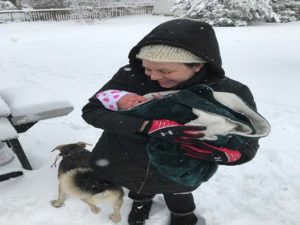 Tracy reached out to us during the pandemic to see how the program was operating. She recalled how helpful Family Connects was for her and could only imagine the birth challenges during this COVID-19. She spoke highly of the program, explaining how much it helped her at her time of need. Now she has a happy, healthy 2-and-a-half-year-old, Ava.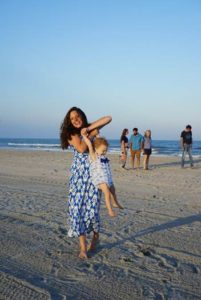 After Ava was born, Tracy deeply understood the challenges of having a new baby.  Because she was an author and understood the value of reading to Ava, she decided to write a children's book, called Everyone's Sleepy but the Baby. to help other new moms. She also created a partnership with Sharebaby, a nonprofit organization who provides diapers to new moms in many of our programs. If you order Tracy's book and send her an email, a donation will be sent to Sharebaby.  
Check out her book:  
Everyone's Sleepy but the Baby: Gold, Tracy C., Dafflon, Adèle: 9781641704403: Amazon.com: Books
About
 Family Connects Maryland
 at The Family Tree
: 
Family Connects M

a

ryland

 (FCM)

,

 is an evidence- based program 

accredited by Duke University,

 Center for Child & Family Health

 Center 

that began four years ago at Sinai hospital.

FCM

 provide

s

 1-

2 nurse

 

home visits to Baltimore City mothers who g

i

ve birth at

 Sinai Hospital

.

 Recently, FCM has 

begun to 

enrolled Baltimore County moms 

who deliver 

at Sinai. 

 

In

 addition to

 

baby and mom health screens, the nurses link families to any needed community resource.

 

 

The program enrolls about 400 families annually. 

 

The program is funded by 

the Baltimore

 City Health 

Department,

 the Maryland State Dep

artment of Education

 

and private philanthropy. 

 

The benefits of 

FCM

 

are

currently being evaluated by

 the University of Maryland School of Social Work

. We expect to receive preliminary findings. Spring, 2021. 

 

 

To

 

learn more about FCM, please visit:

https://www.familytreemd.org/fcm/

If you or someone you know need parenting advice call our Parenting HelpLine at 1-800-243-7337!