The Family That Volunteers Together Stays Together

 
After a year of social distancing, smiling behind a facemask, and staring at screen, it feels like the perfect time to strengthen your family the best way possible by— volunteering. What? Absolutely. Volunteering with your family is a great way to spend time together while also supporting your community. Kids learn responsibility, the importance of giving, and become stewards of their community when they volunteer. But where can an entire family volunteer in Baltimore safely during a pandemic? Check out these great ideas and locations to volunteer right in your neighborhood, backyard, or home computer. Volunteering strengthens your family and builds your community. 
Let us know when you volunteer as a family, take a picture, and use the hashtag #FamilyTreeVolunteer 
Volunteer at Home
Donate Needed Items:

 Purchase items from the 

Family Tree Amazon Wish list

 which includes cleaning supplies, paper products, clothing, 

school supplies and 

baby 

items 

for us to give to families in need. Share the Amazon Wish list with your friends, school, work, or church group.  

 

Spring Cleaning

:

 

It is a great time to clean out your closet, declutter, and donate clothing, old toys, books, and more. D

onate to organizations: 

Goodwill

, 

The Salvation Army

,  

Franciscan Center of Baltimore

, 

Paul's Place

, and more. 

 

Virtual Housewarming Party

: 

Baltimore Care and Rescue Shelter

 (BARCS)

 just opened a new facility. 

Celebrate their new home by collecting blankets, cat food, dog food, toys, cleaning supplies and 

linens

. Check out their 

list

 to donate or purchase 

a housewarming gift

 to help our 

furry friends

. 

 

 

Writing Letters to Seniors: 

W

rit

e

 letters and postcards to 

local nursing home 

residents

. This is 

a great way to engage kid

s and be creative. H

ave them draw pictures

 

and write messages to those that cannot venture out 

easily.
---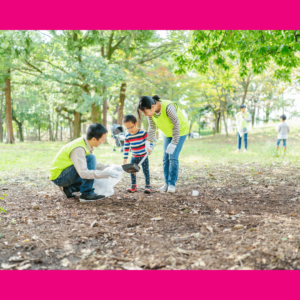 Volunteer 

in Your Neighborhood
The sky's the limit when you are looking for a great community cause to volunteer your family's time. Visit volunteermatch.org to look for volunteer opportunities in your area.  
Remember to take a picture and use the hashtag #FamilyTreeVolunteer when you volunteer as a family. We love to see smiling faces (yes, under masks too) having fun and helping our community.  
If you are looking for more volunteer opportunities with the Family Tree, please join our family by emailing Lindsay Jacks, Volunteer Coordinator, volunteer@familytreemd.org 
---
Navigating

parenting today can be hard, but we are here to support you! If you have questions about parenting in general, call our 24/7 Parenting

HelpLine

: 1-800-243-7337.