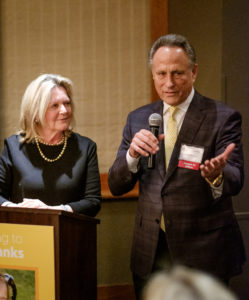 This week we lost a legend – a fierce supporter of Maryland's families. George Sherman understood that with education anything is possible. As a child abuse prevention organization, he challenged us to dig deep and think outside of the box to deliver innovative programs that would improve lives. It has made us a stronger, more effective organization. But what we will miss most about George was his boundless energy, infectious smile, warm heart, with his wife Betsy by his side.
George and Betsy were an incredible team. Together they played a critical role over many decades building The Family Tree's capacity in supporting and educating families to raise safe, healthy and resilient children. Our headquarters, The Sherman Family Center, is a testament to everything they've stood for.
The Family Tree Board of Directors, staff and volunteers send our deepest condolences to our beloved Betsy, their four sons Jonathan, David, Michael and Matthew, and their entire family.