A special recap of another amazing 2018 Holiday season for families!
The Family Tree is always shining bright with the amazing spirit of our staff and volunteers, and during the holidays, that light shines even brighter! With the Family Holiday Party, our Holiday Shop, the staff gingerbread house decorating challenge, we work around the clock to raise families up during this busy time. We aim to provide support for any parent feeling overwhelmed by the holiday stress, not only with our party and Holiday Shop, but also through our 24/7 Parenting HelpLine.
This year, we hosted over 160 people for our annual Holiday Party. Parents and children had the opportunity to eat dinner together, sing and dance, make crafts, and meet Santa! We are so thankful to have dinner from KFC provided each year by an amazing board member, along with some scrumptious treats courtesy of the cupcake and cake wars winner, Cake by Jason!
After dinner, parents and children spent time making awesome crafts together, including cookie decorating, photo booth prop making, and even decorating ornaments they could take home as a reminder of this special night. At the end of the evening, children could listen to stories from Mrs. Clause or sing and dance around to the band, featuring LeNesha and Cedric from Slagz! The over 60 children in attendance received a special visit from Santa and a gift bag with a stuffed animal from Douglas Toy Company. We also held a raffle, with prizes such as large stuffed animals and National Aquarium tickets for the entire family to enjoy!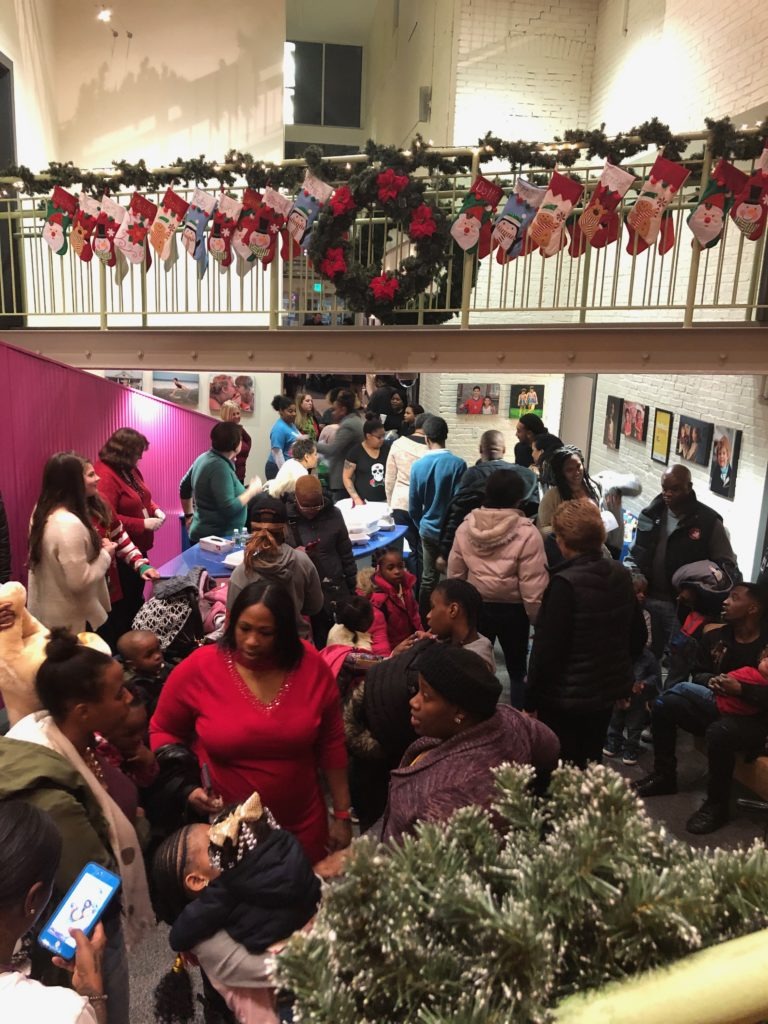 Another tradition of The Family Tree is our Holiday Shop! Every year, we provide gifts to hundreds of children at no cost to parents. Any parent enrolled in one of our programs is eligible to come to the shop. With an average income of under $15,000 a year, some of our shoppers would not have the means to provide gifts for their children without this store. The dedication of our staff and supporters to help provide the best toys to these families is inspiring. We are so thankful for each person or business who donated thousands of toys and for our incredible volunteers for helping staff the shop each day of the week! Our Holiday Shop helps ease some of the stress that comes with the hustle and bustle of the holiday season.
This year, we had 160 families signed up totaling almost 400 children. The Holiday Shop empowers parents because they pick out the gifts themselves, know their children will love each one. A special thank you to our Volunteer Coordinator, Lindsay Jacks, for organizing this year's shop, along with all the volunteers who helped run and organize the shop for a full week!
Thanks for reading, and we look forward to 2019 as we continue to build strong families!